Our Fees & Services
Our services come with years of guaranteed specialized knowledge, ensuring successful results.
---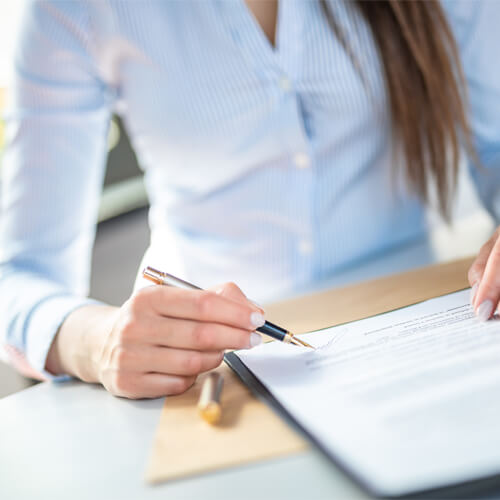 Commissioning
We'll commission your documents – saving you time and money. As an authorized Commissioner of Oaths, we can take oaths or declarations when affidavits or statutory declarations need signing. We also offer convenient mobile commissioning services.
- We come to you
Court Filing
Let us do your court filing for you. If you have court documents to be issued or filed at any level of court in Barrie, Simcoe County, the GTA and beyond, connect with our team to find out how we can be of assistance. If we encounter any issues with your court filing, you will be notified immediately.
Process Serving
We serve all types of legal documents and papers in Barrie as well as Greater Simcoe County, Muskoka, the GTA, Toronto and beyond. Documents include, but are not limited to:
Affidavits
Application Records
Applications for Divorce
Complaints
Demand Letters
Judgments
Motion Records
Notices of Application
Notices of Contempt
Notices of Garnishment
Plaintiff's Claims
Small Claims Documents
Statements of Claim
Summons to Witness
Landlord Tenancy Documents
---
Pricing & Fees
We proudly offer competitive pricing and we are always transparent about our fees. We also provide volume discounts for law firms.
– connect with us to get a quote.
Serving documents within Barrie
$100 flat rate (includes 3 attempts)
Serving documents outside of Barrie
$100.00+ km rate (includes 3 attempts)
Kilometre rate (km rate)
$0.75 per km (from Barrie)
Additional parties – same address
$35 each additional person
Commissioned Affidavits of Service
*Included with service
Court filing
$70 flat rate within Barrie
Court filing outside of Barrie, ON
$70 + km rate
Wait time fee
$100 per hour
Additional rush service fee (24 hour notice)
$45
Affidavit of Attempted Service
Included with service
Printouts of documents to be served
$0.15 per page
Photocopies
$1.00 per page
Paying disbursements
$10 + costs of disbursements
Commissioning documents
$65 + km rate
*taxes not included in pricing
Toggle Full Table
---
What Our Clients Are Saying
"They are extremely efficient and prompt. They are friendly. They keep you updated every step of the way. They go above and beyond to ensure your service and court filing is done quickly and correctly."
– Carolyne
"Great experience from start to finish - quick to reply to all emails and always provided me with updates. This was an urgent matter and it was dealt with promptly. Definitely recommend Prestige!"
– Jamie G.
"Extremely happy with the service they provide. Very prompt, great communication. I would not use anyone else."
– Betty & Brent H.
"Excellent service. I would give 10 stars if I could. They go above and beyond. I've had a few same day urgents (honestly, not ready by me until after noon hour) and service and filing (even in Toronto) has always been done to the very best of their ability. You will not be disappointed."
– Wanda M.
"The staff at Prestige Process Serving do their job efficiently and effectively beginning with daily court filing in town and out of town to serving my issued documents with prompt results."
– Susanne W.
"Very professional and punctual! Great service and communication throughout. Wouldn't choose any other company now."
– Teresa B.
"They go above and beyond when serving documents. They keep you updated on their progress and let you know once the documents have been served."
– Tonya O.
---